Season Finale!
this coming Monday, June 4th @ 8 p.m.



Special thanks to our unwavering founding patron
Rand Resources, LLC.
Our 10th season wouldn't feel complete without the return of our great friend Jura Margulis, who has been here to close each season with a bang. Displaying dual facets of his pianistic artistry, Jura brings us the baroque elegance of Scarlatti sonatas and the late Russian romanticism of Rachmaninoff preludes.
The delightful City of Angels Saxophone Quartet is back (after an illness cancellation a few months ago) with an original sax quartet, Ciudades (Sarajevo, Montevideo, Addis Ababa) by Guillermo Lago, plus a jazzy arrangement of "Dziekuje," a Dave Brubeck piece in the style of Chopin. Yes, Chopin on 4 saxophones!
For a more traditional take on Chopin, CU favorite Anton Smirnov will tackle the Ballade #1 in g minor on our mighty Steinway D.
And we welcome in his Classical Underground debut the distinguished Armenian cellist Sergey Kosemyan. A student of the Paris Conservatoire and master classes with Rostropovich, Sergey has performed as soloist with orchestras in Armenia and around Europe, and more recently with orchestras and ensembles in Mexico before moving to Los Angeles. He will perform together with the pianist Anna Markosyan a few exciting pieces from Tchaikovsky to Arutunyan to Bloch.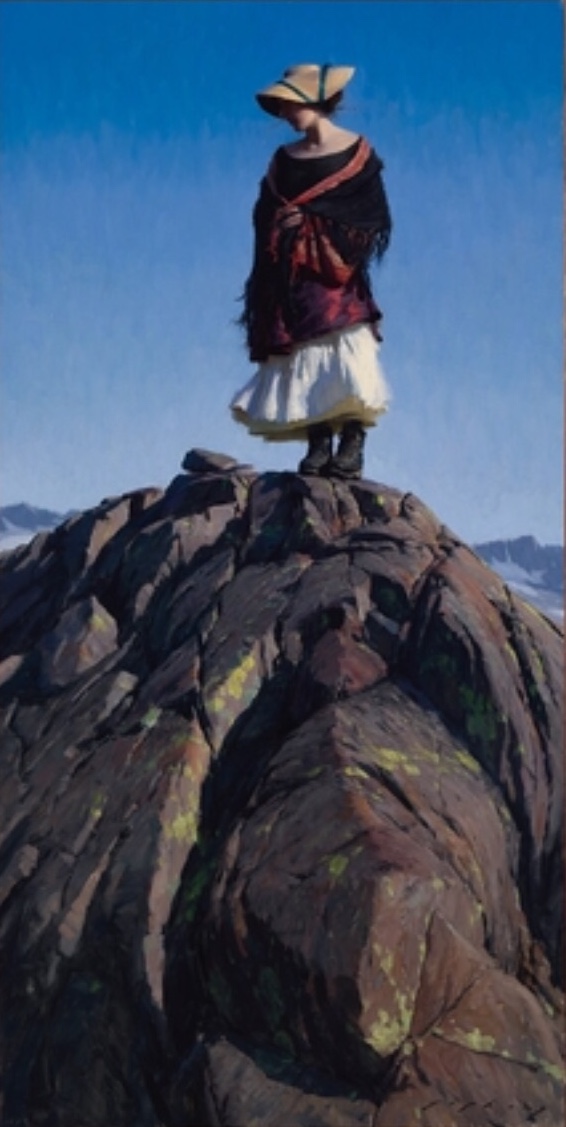 Jeremy Lipking "Above Timberline" oil on linen 36" x 18"
Classical Underground is proud to showcase a masterful painting by Jeremy Lipking.
One of the greatest painters of our generation and a long time Undergrounder returns to CU showcasing his work "Above Timberline."
It is an utter joy to witness the continuous development of Jeremy's extraordinary talent. He invariably pushes the expressive possibilities of the painting medium with his exceptional hyper-understanding of tonal subtleties, manifested in the delicate color transitions within all parts of the value range, and superbly shaped into clear harmonies and compositional masses.
In "Above Timberline," Jeremy has truly put a woman on a pedestal as this painting depicts Jeremy's good friend, the talented painter Chantelle Dinkel, a Swiss Canadian artist of authentic and strong individuality.


In Jeremy's new works we see magnificent examples of exciting developments in the use of 21st century realism as a tool of deeply personal contemporary artistic search, and as part of the multi - threaded tapestry within a newly pluralistic and rich contemporary expression.



*****

As always - bring your spirits, food and drink for you and your friends to enjoy.
Please RSVP via Paypal at the top of the announcement.
We are most grateful to our supportive friends at
We are grateful for a continuous support of our founding patron
*******
20795 Main St. Carson, Ca 90745
Doors open at 7 p.m. No assigned seats - first come-first served. Potluck. Entrance from the parking lot. Free parking.